DEKO³HAIR™ CHARISMO 60 mlDEKO³HAIR™ CHARISMO targets the main causes of alopecia. Its most significant effect seems to be a prolonged growth phase of the hair and improved resistance to the harmful effects of dihydrotestosterone. In addition, it combats t...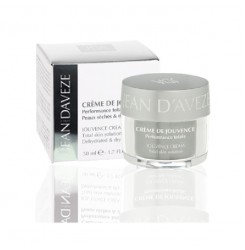 JOUVENCE CREAM Jean D'Aveze Total skin solution. Jar 50 ml (690,00€/l)The extraordinary nourishing & repairing properties of this cream are mainly due to the Calophyllum oil it contains. Antiinflammatory, healing and antiseptic, this vegetal oil also play...
GOLD COLLAGEN®FORTE for skin, hair, nails for for age 40+ (96,00€/l)The price is per one set of 3 boxes, which includes 30 bottles, drink 1 bottle (50ml) daily. Net volume of 1. unit 500 ml (1.bottles X 50 ml) GOLD COLLAGEN®FORTE is a new liquid beauty supple...